Garage Door Broken Spring Replacement & Repair In Twin Cities
At some point all garage door springs will either wear out or break. Fixing a broken garage door spring can be dangerous if not done professionally. Torsion springs have a lot of pressure and can easily hurt anyone removing or adjusting them without the proper training and tools. If your garage door springs are broken and need repair, don't hesitate and give us a call so we can schedule a professional spring replacement at your earliest convenience. Johnson's Garage Door Repair in Twin Cities replace all broken springs for any type of garage door including but not limited to residential, commercial, industrial, sectional and rolling steel garage doors.
Garage Door Spring Dangers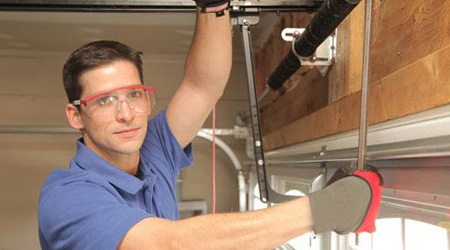 As mentioned previously, springs should never be adjusted or repaired by anyone without proper training. There is extreme tension and pressure placed on these springs; the lack of proper tools and training can cause damage to your property or worse, yourself. If you do have a broken spring, it is recommended you get it repaired as soon as possible, the longer the door operates with a broken spring the more likely additional damage to both your garage and opener.
Spring replacement is the most common request we receive here at Johnsons. Garage door springs come in different shapes and sizes. Their purpose is to lift most of your garage door's weight, and these springs are what allow your door to open and close manually with little to no effort.
How long do Garage Door Springs last?
All garage door springs wear out at some point. The industry measures the lifespan of these springs based on the number of cycles they are used. A cycle is anytime your garage door opens and closes completely. Most garage door springs available in today's market usually carry a life cycle expectancy of about 10,000 cycles. How often you use your garage door will determine how often you would need to have your springs replaced.
Below you can see the life expectancy of a 10,000 cycle spring determined by daily use:
2 times daily = about 14 years
4 times daily = about 7 years
6 times daily = about 5 years
8 times daily = about 3 years
Once you notice that your door is harder to lift or lost its balance, you'll know that your springs have reached their life-cycle limit. When the garage door is in a closed position it is most likely to cause the springs to break as this is when there is most tension placed on them. Springs can also break when the door is in an open position although this is less likely to happen.
Johnsons Garage Door Experts consist of a professionally trained team of technicians highly experienced in replacing broken springs on any garage door. Contact us today to have an expert fix and replace your broken springs.